Texas CHL Proficiency Demonstration Course
We also are offering the range proficiency and gun safety course for students that complete their LTC on line. Email bcsconcealedcarry@gmail.com to set up an appointment.
This 50-shot course of fire is the same for both instructors and license applicants. A .22 or larger caliber is required for the range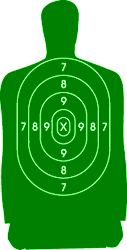 qualification. If you would like to qualify with your own handgun (preferred option), bring your UNLOADED handgun with you. I also have several makes and models of semi-auto pistols that I can provide for your use to qualify , but you still need to supply 50 rounds of the appropriate ammunition. If using one of our loaner guns purchase American Made Luger 9 mm ammo. A DPS B-27 human silhouette target is used (measures 45" x 24") and may be of four colors, no drawing from a holster is is allowed. To qualify, shooters must complete this course with a minimum score of 70%. (175 out of possible 250). If any malfunctions are encountered, the shooter will work through the problem and finish the course of fire. If rounds are held (not fired within the allotted time), the shots will be scored as misses.

If you are a new shooter and have limited shooting skills, you will need to take a basic beginner level shooting course prior to the class. Shooters must know how to safely and effectively shoot a handgun before taking the shooting test. Instructors are prohibited from teaching students how to shoot as part of the CHL class.
If you need to learn how to shoot, we offer a Basic 101 Marksmanship Course to teach you gun safety, proper gun handling and marksmanship. The cost of the course is $35 plus a box of ammo and is scheduled by appointment only. It is approximately a 45 minute session. This course will prepare you to pass the range proficiency requirement of the LTCL class. Email for an appointment.

Eye and ear protection is required.

No open-toed shoes please, and a hat or ball cap is recommended.

Please dress appropriately for the weather conditions. The range is located near the Navasota River and the associated bugs are never far away.
20 shots from 3 Yards
One round fired in 2 seconds, 5 times
Two rounds fired in 3 seconds, 5 times
Five rounds fired in 10 seconds, 1 time
20 shots from 7 Yards
Five rounds fired in 10 seconds, 1 time
Two rounds fired in 4 seconds, 1 time
Three rounds fired in 6 seconds, 1 time
One round fired in 3 seconds, 5 times
Five rounds fired in 15 seconds, 1 time
10 shots from 15 Yards
Two rounds fired in 6 seconds, 1 time
Three rounds fired in 9 seconds, 1 time
Five rounds fired in 15 seconds, 1 time